Search
COLUMNS
Business Profiles
NZ Racing Desk
This is where you'll find a variety of articles which may be of interest. If you have anything to contribute, we'd love to hear from you.
25th Jan: Three-peat for Te Akau in Karaka Million

Published: 27 Jan 2019 - - Author: NZ Racing Desk
---
An outside barrier couldn't stop classy filly Probabeel, with the Jamie Richards-trained juvenile taking out the rich Karaka Million 2YO (1200m) at Ellerslie on Saturday.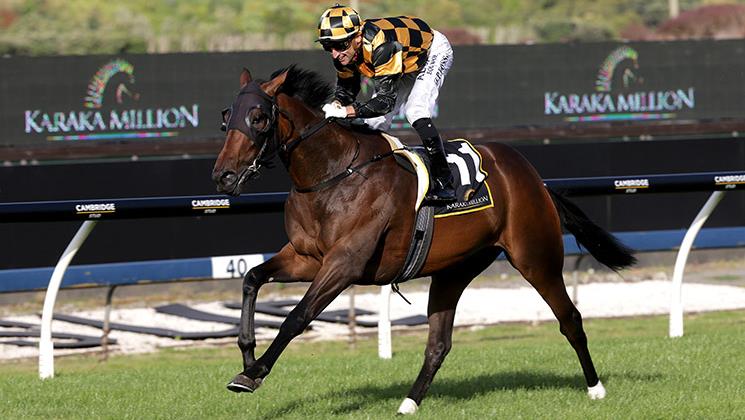 Photo: Trish Dunnel
It was a three-peat for the combination of jockey Opie Bosson and Richards, who combined with previous winners Avantage and Melody Belle when Richards was training in partnership with Stephen Autridge.

After jumping away from the outside barrier in the 14-horse field, Bosson had no option but to settle Probabeel towards the rear of the field in the 1200m event.

The pair bided their time before looming large on the turn and were able to make light work of their opposition to win by 2-3/4 lengths over stablemate Aotea Lad, with Te Akau picking up the trifecta when stable runner Yourdeel dead-heated with Appellant, three-quarters of a length back in third.

Richards, who is in his first year training on his own account, was delighted with the result, but was quick to pass on praise to his support team at Te Akau.

"It is just such a massive team effort, I'm only the name in the book. We have got a huge support crew around us. It's a big buzz and a bit of a relief to be honest," Richards said.

Richards said that Probabeel had shown ability from an early stage and he is excited for what is in-store for the daughter of Savabeel as she develops into her frame.

"We went to the Te Teko trials at the end of August and Mark Walker was home from Singapore. She came from last and ran second and Mark said to me 'I haven't seen a horse trial that good since King's Chapel', so we have known for a little while," he said.

"She's a big scopey filly, she's nowhere near wound-up yet. The future is very exciting."

Bosson shares the same belief as Richards and said it was a relief to win the race after what has been a whirlwind week.

The in-form hoop celebrated the birth of his son Max earlier in the week and then had to waste to make the 54.5kg allotted weight for the race.

"It has been an amazing week with the birth of Max. I am glad this is all over, it has been hard work wasting at the same time as well," Bosson said.

"She is just all class. What she is doing now as a two-year-old is just a bonus for what she's going to be as a three-year-old."

Te Akau principal David Ellis was full of praise for Bosson and said he was a huge part of the stables success.

"It is really exciting and he's a freak this guy," Ellis said. "Riding 54.5 kilos, I'm so incredibly proud of him and it's just amazing having him as our stable jockey.

"It's pretty emotional and a big thrill and to trifecta the race is just fantastic."

Ellis purchased Probabeel out of Waikato Stud's 2018 New Zealand Bloodstock Book 1 Sale draft for $380,000 and subsequently sold her to Cambridge Stud Principal's Brendan and Jo Lindsay.

Brendan Lindsay was overjoyed with the win and said it was a great boost after purchasing Cambridge Stud last year.

"It's just a dream come true," he said. "We bought the stud, it is great for our business, great for our staff. She's bred in New Zealand, it's a great story. She's trained by a great trainer and selected by a great judge in David Ellis."

Richards was delighted for the Lindsays and said Ellis would be back at Karaka in the coming days looking to add more quality horses to Te Akau's Matamata racing barn.

"I think this is awesome for them. Dave bought this filly last year and a couple of days later they bought her," Richards said.

"They are a pretty important part of our industry now and the most exciting thing that has happened to this game in a long time.

"We'll go back to Karaka in the next few days and be really strong on the horses that we like."
Te Akau trifecta provides relief for Richards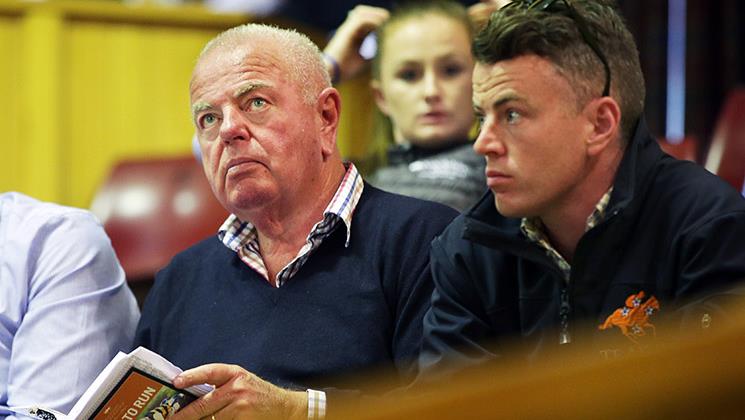 Photo: Trish Dunell
You could forgive Te Akau Racing's Jamie Richards for allowing himself a moment of celebration following the running of the Karaka Million 2YO (1200m) on Saturday evening.

In his first season in sole-charge of the Te Akau Racing team, Richards had just provided the trifecta in New Zealand's richest two-year-old race with Probabeel, Aotea Lad and dead-heater Yourdeel.

While feeling a sense of satisfaction, Richards admitted his overwhelming emotion was that of relief.

"I was pretty relieved after the race, to be honest," Richards said.

"Once you get to raceday there's not much more you can do, you just have to have faith in your horse and the jockey on top of it.

"We were really happy with our horses until we got to the barrier draw where our three best chances drew outside.

"Thankfully there was good speed in the race and I think the filly that won is quite a classy horse. She can do things that other horses don't."

While reluctant to split Te Akau's five runners in the final field, Richards was clear that Probabeel looked to be the stable's best chance of success based on her lead-up form.

"If she hadn't have drawn the outside, she was clearly our best chance," he said.

"She's a filly that has a lot of X-factor about her, she's not a natural two-year as she's a big, scopey filly so whatever she is doing at the moment is a bonus for the future."

Richards also revealed that the application of blinkers for the race had also bolstered his hopes for her chances.

"We'd given her quite a bit of work at home in the blinkers as the first couple of times she raced she lacked a bit of ringcraft.

"After she had a freshen up, we gave her a jump-out with the blinkers on and she really went well.

"We didn't put a full-cup blinker on because she raced keen enough last start, so we met her half-way and she seemed to appreciate that."

Richardson advised that Probabeel would most likely head to the paddock for a few days before a discussion with owners Brendan & Jo Lindsay would take place to outline possible options for her in the autumn.

With the commencement of the New Zealand Bloodstock National Yearling Sale at Karaka on Sunday, Richards' attention now turns to working with Te Akau boss, David Ellis, to select the next crop of youngsters for the stable.

"It's a pretty busy time out here (Karaka) as we try and buy the next good horse," he said.

"We work pretty hard through the summer and enjoy a bit of a break in the winter, so we will soldier on for now and celebrate our success when we do get the chance."
By Commenting Below you agree to the Terms and Conditions found here