Search
COLUMNS
Business Profiles
NZ Racing Desk
This is where you'll find a variety of articles which may be of interest. If you have anything to contribute, we'd love to hear from you.
26 Nov: Clerk Of The Course

Published: 25 Nov 2018 - - Author: NZ Racing Desk
---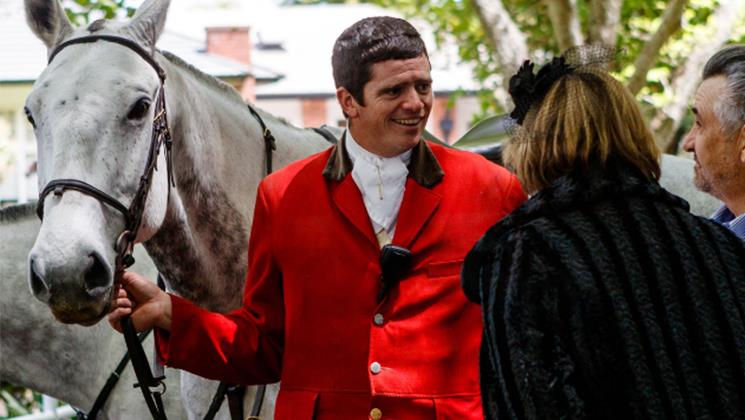 We've all seen them, but what is the deal with those grey horses that canter behind the field in a race? These are the Clerks of the Course and they have a pretty important role to play come raceday!
The term 'Clerk of the Course' can refer to the horse or rider and as a partnership they are responsible for retaining order before, during and after the running of a race. If a horse and its jockey were to part ways during the race, catching the loose horse comes under their job requirements. The Clerk of the Course can also be used to chaperone nervous horses heading to the start of a race. These notoriously quiet horses do a great job at acting as a 'buddy' for nervous horses heading out in front of an (often rowdy) crowd and helps to keep them calm.
More often than not, a Clerk of the Course horse is grey, which makes them easily identifiable during a race (although their pot bellies probably give away that they're not there to race anyway!) The traditional red jackets and grey horses used comes from early English hunting tradition. As a side note: did you know that grey horses get whiter with age?
Many Clerk of the Course horses were previously racehorses, including the 1992 Melbourne Cup winner Subzero, 2009 Melbourne Cup runner-up Bauer and New Zealand's own Milton Magic, who won the first $1million 2-year-old race in New Zealand.
It takes a special horse to be a Clerk of the Course. They have to be extremely quiet and reliable but be able to respond to any emergency situation quickly. They must be bold and brave, especially when a loose horse is galloping towards them and it's their job to catch it! They need to be firm with other horses and remain 'in charge', particularly so when they're leading a flashy colt to the start who thinks he's god's gift…
Above all else, Clerk of the Course horses are beautifully natured horses that love human attention. Keep an eye out for them next time you're at the track- they love a pat and to pose for a selfie!
By Commenting Below you agree to the Terms and Conditions found here