Search
COLUMNS
Business Profiles
Kirsty Lawrence
A passionate journalist and photographer, there isn't much Kirsty doesn't about horses - a registered public trainer, she also prepares horses 'pre-racing' and for equestrian pursuits.
29th Aug: In Memory Of Cody Singer

Published: 29 Aug 2017 - - Author: Kirsty Lawrence
---
It is with great sadness that we advise the passing of talented horseman and jumps jockey Cody Singer.
Cody was the first to recognise his problems and the battles he had with depression, coupled with a Traumatic Brain Injury suffered in 2014 and the effects of eight concussions - it was all too much for Cody and he took his own life.
Its a heartbreaking topic, many asking of themselves tonight what they could have done differently, in a week when the suicide statistics have been highlighted, and coming hard on the heels of Ross Dohertys anniversary.
Success was a huge part of Codys riding career - 36 wins - his name is etched on the Grand National trophy with Cape Kinaveral, and he enjoyed premier jumping success with Just Got Home in the Wellington Hurdles and Brushman in the Wellington chase. Cody loved his jumping and racing. After time on the sideline due to a major head injury, Cody turned to hunting to get his adrenaline fix - most recently as Huntsman for the Wairarapa Hunt.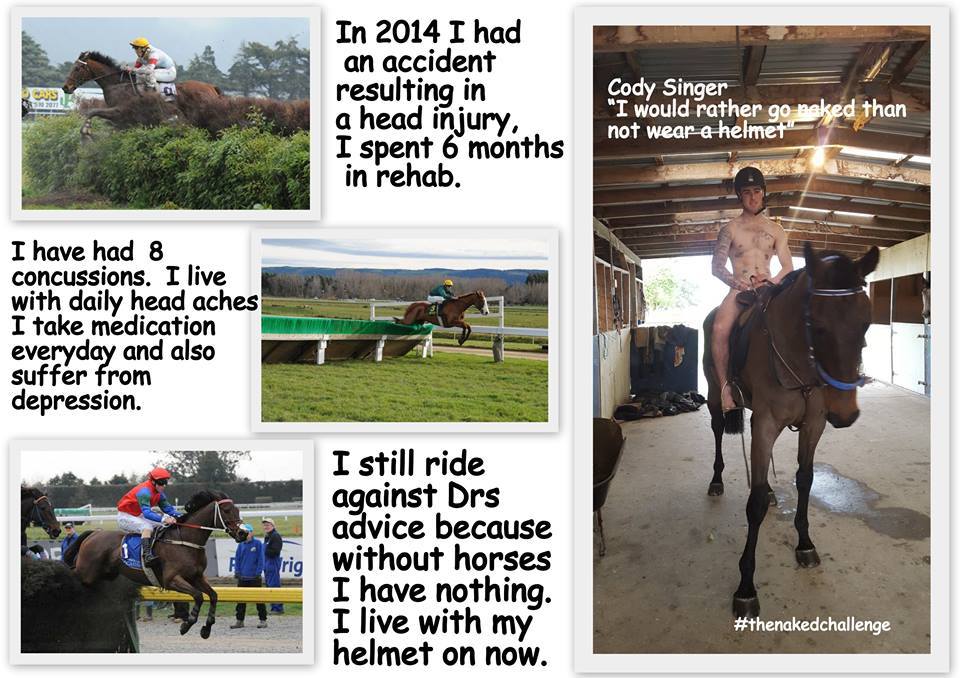 Image - This was Codys own post about his journey - for #nakedchallenge in 2015
Tonight an industry reflects. We all have pressures in our lives, there are lots of quotes, don't judge someone until you have walked a mile in their shoes - Be kind, people are fighting a battle you know nothing about.
Take a deep breath today, talk to those close to you, and remember a talented horseman, who was successful and well loved, at his best on the back of a horse.
The industry remembers you today Cody. We sincerely hope that you have found your peace. RIP.
Kirsty Lawrence
By Commenting Below you agree to the Terms and Conditions found here