Search
COLUMNS
Business Profiles
Kirsty Lawrence
A passionate journalist and photographer, there isn't much Kirsty doesn't about horses - a registered public trainer, she also prepares horses 'pre-racing' and for equestrian pursuits.
5th Aug: Once Upon A Time .. a young girl who dared to dream

Published: 10 Aug 2017 - - Author: Kirsty Lawrence
---
Its a story that should begin with Once upon a time, there was a young girl who dared to dream.
Apprentice Kate Cowan made a decision she wanted to be a jockey, and there was only one way to do it as far as Kate was concerned. "I was going to be successful, there was no second choices, I was going to be good at it" smiled Kate, her determination has taken a lot of hard work, something Kate is not afraid of.
"I knew I just had to get stronger, learn, listen, and hope trainers put me on" she laughs.
The next chapter in the story saw her moving to the stables of Kevin Myers, the key to her improving was riding a lot of trackwork. "I was weak early on and struggled to hold horses, Dummy used to say if you bolt do one lap, if you're OK do two" she says with a laugh, its been a while since she has done one.
Her first winner was only 5 months ago, and was a snapshot of what was ahead, a smile a mile wide.
At the end of the season when we interviewed Kate about her high for the season - her quick answer was "winning on Nashville". Her goal for this season, "keep riding winners, and hopefully get some group opportunities" smiles the likeable Kate, whose acting background certainly helps her poise, her wit is fast.
So turn the page to the Winter Cup 2017 and reunited with Nashville, she has an enviable record on the Group 1 winner, nine rides for 3 wins and 3 placings, but the significance of being allowed to ride the horse in the Group 3 Winter Cup was not lost on Kate. "I have to thank Adrian and Harry Bull, these things don't happen to apprentices, but they are very loyal and I am so lucky."
The story heats up when Kate turns for home, and as usual Nashville is sitting, waiting - ready, set and Kate says go. It was an impressive display by the now nine year old Nashville, punched to the front by Kate, in a weight carrying record of 60kg to win the 120th eStar Winter Cup, Kates biggest win to date.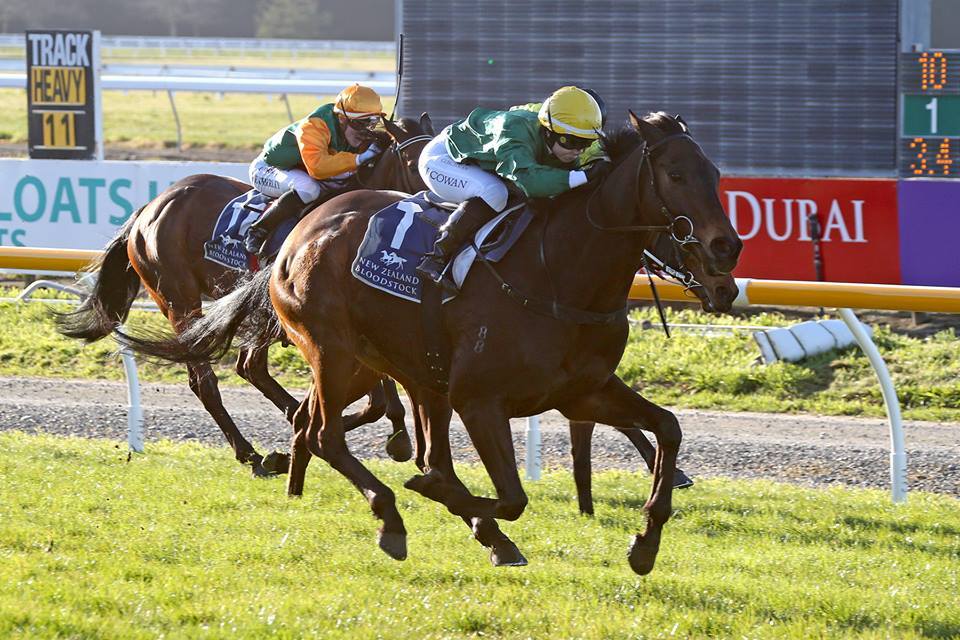 Kate was quick to acknowledge the part played by former top jockey, and now apprentice mentor David Walsh, "I walked the track with him yesterday and that was very important," she said. "I felt like I had an ear piece in and he was coaching me all of the way." she smiled.
This is a story that has a happy ending for now, but one thing you can be sure of is that Kate Cowan is into sequels, there are many more books to be written by this gritty focussed young lady who is determined to achieve her own happily ever after.
Story - Kirsty Lawrence
Photos - Lawrence Racing -
Photo - win shot Race Images
By Commenting Below you agree to the Terms and Conditions found here