Search
COLUMNS
Business Profiles
Newsroom
This is where you'll find a variety of articles which may be of interest. If you have anything to contribute, we'd love to hear from you.
5th Aug: Stats On Koral Steeplechase

Published: 04 Aug 2017 - - Author: Newsroom
---
With the Grand National meeting getting underway today, Chris McQuaid has provided us with the stats around today's feature, the KORAL STEEPLECHASE (formerly Lincoln Steeplechase)
The first Lincoln Steeplechase was run in 1899, although that year's event may have been for hacks and hunters only. It was renamed in honour of Bill Hazlett's great grey jumper in 1973, a year after that horse's retirement. It has been run over both 2½ miles (4000 metres) and 3 miles (4830 metres when metrication introduced in 1973), although the distance from 1998 to 2010 was 4150 metres, due to the track reconstruction a year earlier. In 2011 the distance was increased to 4250 metres. The times below are for 4150 metres.
Fastest times: 4:49.38 Deecee Seven 1998 4:54.78 Currency 2000 5:03.86 Silver Archer 2002
Slowest times: 5:20.57 The Jolly Dancer 2008 5:19.13 Mr Easystreet 2004 5:18.32 Counter Punch 2010
The fastest and slowest times for 4250 metres are 5:09.20 by High Forty in 2015 and 5:28.17 by Karlos in 2013.
Highest winning weights: 12 st 10 lb (80½ kg) Te Arai 1910 12 st 9 lb (80 kg) Haydn 1903 12 st 3 lb (77½ kg) Morning 1915
Since metrication in 1973, the highest winning weight carried has been 70 kg (on a 65 kg minimum) by High Forty in 2015, although 67½ kg was carried by Deecee Seven in 1998 when the minimum was 62 kg. The record weight carried to victory by a mare was 11 st 13 lb (75½ kg) by the pony-sized Aurora Borealis in 1930. Other mares to win were Sultana (1902), Nadador (1907) and Free Air (1935).
The oldest winners whose ages are definitely known were Paritutu in 1912, Merry Lad in 1919 and Royal General in 1961 (his second win), each aged 13. This race has seen a phenomenal number of winners with ages in double figures compared with other major events.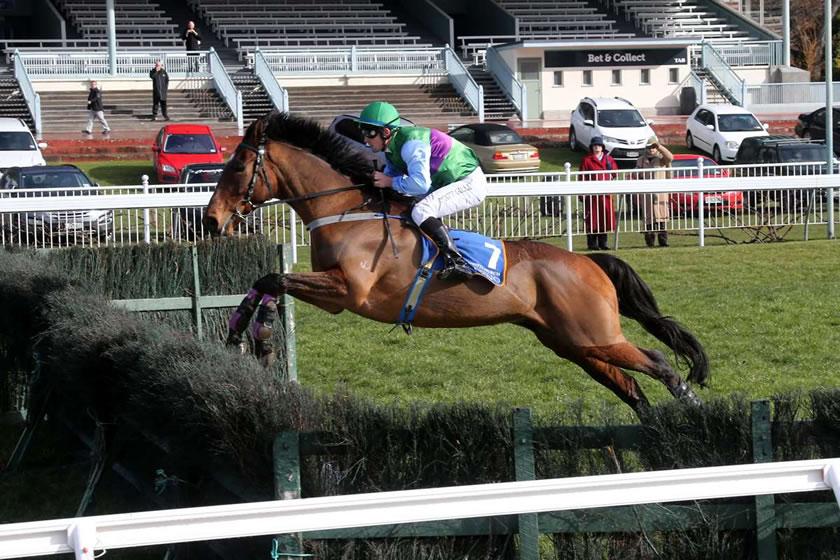 Image - Big Opal, last year's winner
Koral won this race four times - 1965, 1968, 1969 and 1971, the last time as an 11-year-old. Two horses have won three times - Pages Raid, in 1946, 1947 and 1949, and Deecee Seven in 1996, 1997 and 1998. The following horses have won twice: Te Waotu (1955, 1957) Royal General (1960, 1961) Crown Star (1985, 1986) Counter Punch (2009, 2010)
Bill Hillis holds the jockey's record of five wins, scoring on Koral each time as well as Capet in 1958. Jockeys who have won three times are:
Michael Gillies Glandovey (1979), Guess Who (1980), Retinere (1984) Alex (Snooky) Cowan Master Bijou (1987), Thanks A Million (1991), Deecee Seven (1998).
As well as owning Koral and Capet, Bill Hazlett shared in the ownership of Anglo-French (1942) with his brother Jack, while his estate raced the 1978 winner First Wood. The trainers' record is six wins, by Mark Oulaghan (Deecee Seven 1996-98, The Jolly Dancer 2008, Counter Punch 2009 and 2010).
The only women jockeys to win are Tina Egan (1995 on Sound Impact) and Rochelle Lockett (2000 on Currency and 2006 on I'manace).
Image - Big Opal, last year's winner.
By Commenting Below you agree to the Terms and Conditions found here